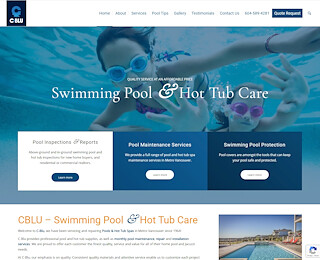 When you are looking for the most experienced, friendly and professional pool and spa chemical company in New West, we would be highly pleased for you to consider contacting C-Blu as your go-to chemical supply company for all of your pool and spa needs. The chemicals that are needed to maintain the beauty and the safety of your pool and spa require the proper balance and placement to ensure the life or your investment. We have the tools, the resources and the expertise to ensure that your pool and spa are always sparkling clean and running at peak performance.
Swimming Pool Chemicals
Whenever the use of chemicals is involved with any job, it is always best to contact a professionally certified technician to balance and maintain the chemical components. If chemicals are not used properly, they can cause serious reactions that can compromise your health and safety. At C-Blu, we have the knowledge and the know-how to ensure that all of your pool and spa chemicals are distributed properly, keeping your investments crystal clear and harm-free for you and your family. We maintain a full inventory of all of the chemicals and supplies that are needed for all of your pool and spa requirements.
Pool and Spa Water Testing
As with any quality pool and spa chemical company in New West, C-Blu will advise you that it is imperative to constantly check the balance of chemicals in your water to provide the best results for the appearance and safety of your pool and spa. C-Blu has a staff of highly qualified pool and spa certified technicians to perform these tests and resolve any issues that they may discover. The consistent filtering of your water is also vital for all pools and spas. With the assistance of a professional pool and spa cleaner, your water will remain well maintained all year long.
About Us
C-Blu Service & Supplies, LTD has serviced the Metro Vancouver area for over 50 years, bringing our know-how and expertise to every job site that we visit. We have the highest 5-star rating on the internet, that will assure you that we have the experience and knowledge required to handle all of your pool and spa chemical needs. You can contact us directly on our home page to set up an appointment to meet with one of our friendly, professional technicians to enable us to assist you with any questions and concerns that you may have. You can also simply call us at 604.589.4281 and speak with one of our professional customer service reps.
C-Blu is considered the top-rated pool and spa chemical company in New West, BC, servicing our community since 1964. The amount of time and money that is required to maintain your pool and spa is sometimes overwhelming. This leaves much less time for you and your family to enjoy these amenities. We would consider it a pleasure if you would allow us to relieve you from the stress and worry, and leave it to us.
In Need of Pool & Spa Chemicals? Call CBLU Today!
Pool and spa chemical company new west