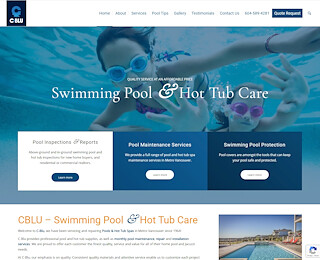 When you are in need of a pool repair in Richmond, we would be extremely delighted if you would contact us at C-Blu and allow us to assist you with any and all of your pool repair issues. When your pool is not performing at its best, it can cause further wear and tear on it, causing an even costlier and timely amount of work that is needed for the repairs. When you have such a large investment that is not giving you and your family the entertainment and enjoyment that it was meant to, it's disappointing and causes undue stress and worry.
Swimming Pool Liner Replacement and Repair
We all know the importance and significance of your pool liner. If your pool liner has developed a tear or a hole in it, it is imperative to have it replaced or repaired at once. The leaking water will end up between the liner and the cement, which will eventually cause even more damage to your pool. Sometimes these issues can only be ascertained by inspecting the damage while being physically underwater. C-Blu would like you to know that we have a highly trained staff of certified, professional pool technicians that can assist you with this, and any other pool repair services.
Pool Pump Repair and Replacement
C-Blu has a solution, the tools and the resources available for any pool repair in Richmond. Your pool's pump is one of the most important pieces of running equipment vital to the circulation, heating and filtering of your pool's water. If you are wondering if your pool pump is not running at its peak performance, you should have it checked immediately by a certified pool pump specialist. Sometimes a full replacement is not necessary, meaning the pump may be able to be fixed instead. We have a fully certified, highly trained pool pump specialist that can analyze the situation and recommend the proper procedures.
Pool Leak Detection and Repairs
When you are experiencing a leak within your pool, it is quite important that you have this issue surveyed and taken care of immediately. If a leak is allowed to continue, it will eventually cause some major issues with your pool costing you an unnecessary amount of wasted time and money. Sometimes, the leak can be a simple repair that can be dealt with at a minimum expense. C-Blu can advise you on your best course of action so you and your family can make the most of your quality pool time.
C-Blu Service and Supplies Ltd. is the top-rated company for any pool repair in Richmond. We have been servicing our community for over 50 years, allowing us to handle any and all pool repairs imaginable. Your family's pool is a major investment, not only of your money but also of your time. We realize that you would like to spend more of that time enjoying your family and the quality of entertainment and enjoyment that your swimming pool offers you.
If Your Pool Needs Repairing, Call Today!
Pool repair richmond