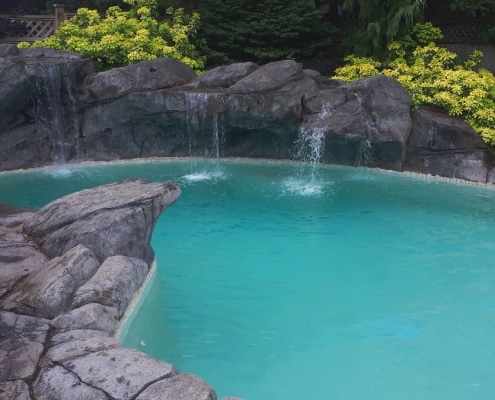 At C-Blu, we are delighted to provide our customers the best service possible. We feel confident that once you call us, you will keep calling us in the future for all your pool or hot tub jacuzzi repair and servicing needs. Our Surrey based staff has the expertise and tools to service your backyard oasis. We offer maintenance plans that will be a time saver for you, and keep you pool running at its best.
We offer two ways to contact us. You may fill out our online request form so we can call you back, or you may give us a call directly at (604) 589-4281.
See our Pool Services page to view the repair and maintenance services that we can help you with.
There are essentially two types of swimming pools: an "above ground pool" and an "inground" pool. This is an important distinction to be aware of when it comes to pool maintenance and cleaning services, as the latter is normally more costly and more difficult to clean.
The reason that inground pools are more expensive to keep clean and maintain, is due mainly to their more complex design and plumbing system. These kinds of pools are often landscaped and feature complex pool shapes. As a result an increased amount of debris finds its way into the water from the landscaped features. This in turn is more difficult to remove due to the fact that inground pool shapes often feature tight corners.
If you're looking for a pool and spa repair service in Greater Vancouver area, then give us a call today at 604-589-4281 or complete our request estimate form.
Contact C-Blu Pool
&

Spa Services

QUALITY SERVICE AT AN AFFORDABLE PRICE
Pool Pump Repairs
&

Replacements
The heart of your circulation system, your pool pump, pulls water from one or more suction ports (i.e., skimmer & main drain), and then pushes it through the filter & heater and back to the pools' return ports.
Pool Leak Detection
&

Repairs
The last thing you wanted to see when you get ready to enjoy your swimming pool is a leak. Leaks cost money and fun time. Don't let your pool go without getting the leak fixed. If you have identified a leak we recommend searching for a leak detection specialist company. C-Blu is unable to provide leak detection & repair services.
Pool Plumbing Pressure Tested
When the plumbing system of a swimming pool is leaking one of the first diagnostic tests that a professional will perform is a pressure test. During this process the plumbing lines of the pool are isolated and independently tested to determine their ability to hold pressure without leaking.
Pool Salt Water Conversion
A good way to keep your pool clean is to use chlorine. One way to have this chlorine added to your pool is through salt water. You may know of the traditional methods of adding chlorine, but did you know that salt can add it too?
Pool Replacement Liner Installations
You may need to change your pool liner for a few different reasons. One is that you have developed a tear or hole in your liner. In this case you would want to get it changed immediately. Calling your pool liner replacement specialist is the first course of action you must take.
If you own a swimming pool, it is perhaps the most amazing possession you have. This, however, increases your responsibility, as you have to take great care of your home pool. Pool covers are amongst the tools that can keep your pool safe and protected.
If you maintain your spa outdoors, after that a cover will prevent rubbish like leaves from falling into your tub and dirtying it. This will ensure you do not need to clean it out every time you want to use it and provide your hot tub the protection it needs.
Just like with most things that involve the use of chemicals, it is always best to consult the advice of swimming pool experts. At C-Blu we have the expertise when it comes to pool chemicals used to sanitize your swimming pool, and ensure that proper dosages are respected.
Hot Tub Parts
&

Accessories
Is your pool or hot tub broken down? Do you need some replacement parts? Give us a call and let us get you the parts you need.