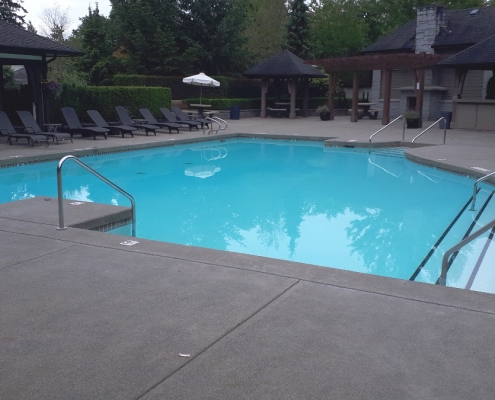 At C-Blu we do not repair or replace liners. If your liner needs to be repaired or replaced we will refer you to one of our trusted providers who are qualified to perform this type of work.
You may need to change your pool liner for a few different reasons. One is that you have developed a tear or hole in your liner. In this case you would want to get it changed immediately. Calling your pool liner replacement specialist is the first course of action you must take. We can schedule a time to replace the torn pool liner and let you get back to enjoying your pool. Another reason to change the liner is to change the look of your pool. Pool liners come with many different patterns and colors. If you are remodeling your pool area you might consider updating the look of your pool liner. At C-Blu we can help with that too. Our customer service team will be happy to schedule a service call to answer any questions you may have.
A swimming-pool liner leak does not necessarily mean a new liner. It does mean that you need a quick Surrey pool repair. Most leaks result from the swim-pool liner being ripped by a toenail or a fingernail as well as sharp objects such as broken glass or something else that should not be around a pool. If you think you have liner leaks in your pool, you must inspect the liner underwater and see where they are located. This is so important to do before the rip gets worst and makes it necessary for the liner to be replaced.
Fixing a Pool Liner Leak
If you find pool liner leaks, you need to fix them immediately. If the leak is under water, you must drain the pool down about a foot below the leak. If it is a rip or a slice, you need to allow the area to fully dry before you do any repairs. You will need a liner repair kit or a liner patch kit. You will follow the directions on the package, which are very easy to understand. After you have the patch adhered to the liner, you need to allow it time to set before filling with water.
Liner Replacement or Repairing
In some cases, the liner leak is due to the age of the liner. You will then need to think about replacing the liner. This is an expense that everyone dreads hearing. If you can possibly repair the leak, you will save money, but sometimes that liner will just keep spring new leaks. You will have to inspect the liner to see if the liner leaks are from sharp objects or is it due to wear. If it is because of sharp objects and the liner looks to be in good shape, you can just repair the leaks. If the liner shows signs of wear, you may have to replace it.
Liner Leaks Need Repair
Some people think that one little swimming pool liner leak is not a big deal and leave it go. The facts are that a leak allows water to get between the liner and the cement. This can cause other problems with the pool. Where is the water going to go? It is going to accumulate and eventually pull down on the swimming pool's liner. Then you are going to have more than just a leak problem. The liner will need to be pulled back up to the top. This is not a job you can do yourself.
Price
For a complete installation of a full print and border 27mm inground vinyl liner you can expect to pay:
16 x 32 feet liner replacement costs approx $4,000.00 to $5,000.00
18 x 36 feet liner replacement costs approx $4,500.00 - $5,700.00
20 x 40 feet liner replacement costs approx $5,000.00 – 7,000.00
Installation price is approx $1,000.00 to $3,000.00
Our Pool Liner Services in Great Vancouver area:
Pool Liner Replacement
Pool Liner Repair
If you're looking for a pool liner replacement company, then give us a call today at 604-589-4281 or complete our request estimate form.
Contact C-Blu Pool
&

Spa Services

QUALITY SERVICE AT AN AFFORDABLE PRICE
Pool Pump Repairs
&

Replacements
The heart of your circulation system, your pool pump, pulls water from one or more suction ports (i.e., skimmer & main drain), and then pushes it through the filter & heater and back to the pools' return ports.
Pool Leak Detection
&

Repairs
The last thing you wanted to see when you get ready to enjoy your swimming pool is a leak. Leaks cost money and fun time. Don't let your pool go without getting the leak fixed. If you have identified a leak we recommend searching for a leak detection specialist company. C-Blu is unable to provide leak detection & repair services.
Pool Plumbing Pressure Tested
When the plumbing system of a swimming pool is leaking one of the first diagnostic tests that a professional will perform is a pressure test. During this process the plumbing lines of the pool are isolated and independently tested to determine their ability to hold pressure without leaking.
Pool Salt Water Conversion
A good way to keep your pool clean is to use chlorine. One way to have this chlorine added to your pool is through salt water. You may know of the traditional methods of adding chlorine, but did you know that salt can add it too?
Pool Replacement Liner Installations
You may need to change your pool liner for a few different reasons. One is that you have developed a tear or hole in your liner. In this case you would want to get it changed immediately. Calling your pool liner replacement specialist is the first course of action you must take.
If you own a swimming pool, it is perhaps the most amazing possession you have. This, however, increases your responsibility, as you have to take great care of your home pool. Pool covers are amongst the tools that can keep your pool safe and protected.
If you maintain your spa outdoors, after that a cover will prevent rubbish like leaves from falling into your tub and dirtying it. This will ensure you do not need to clean it out every time you want to use it and provide your hot tub the protection it needs.
Just like with most things that involve the use of chemicals, it is always best to consult the advice of swimming pool experts. At C-Blu we have the expertise when it comes to pool chemicals used to sanitize your swimming pool, and ensure that proper dosages are respected.
Hot Tub Parts
&

Accessories
Is your pool or hot tub broken down? Do you need some replacement parts? Give us a call and let us get you the parts you need.